Quality Data Joins The Digital Revolution
Designed for flexible and easy reporting and analysis of dimensional inspection data, ATS CM4D is a critical component of any digital manufacturing tool set. Dimensional inspection has long been a staple of the modern manufacturing process. Yet, in the absence of a universal tool for parsing and presenting the data, it has remained in exile to the digital manufacturing revolution.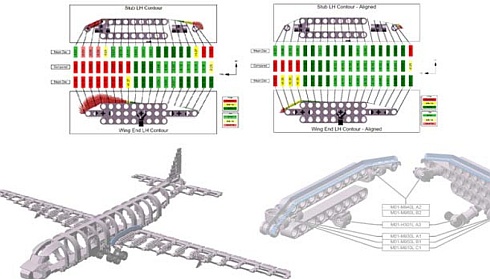 By offering instant access to this data presented in an intuitive format, ATS CM4D closes the digital loop from design to manufacturing, unlocking the value of your data. Part of a comprehensive dimensional measurement strategy, ATS CM4D is credited with improving Cp, Cpk and Six Sigma values across multiple enterprises and industries.
Not just a manufacturing tool, ATS CM4D is an important resource for feedback into the design process as well. By providing easy access to historical process capability data, ATS CM4D provides engineers with the tools necessary to validate designs and assumptions about product manufacturability.
Developed over the past 15 years, ATS CM4D was originally designed as an internal resource, ancillary to the off-line CMM programming services which ATS provided to the automotive OEMs. ATS CM4D quickly caught the eye of ATS's clients and was transformed into a commercial package, developed with knowledge that can be gained only on the plant floor and in the CMM room.
ATS CM4D remains unique in its capabilities. It is the original, and by far most advanced, tool for enterprise-wide management and reporting of dimensional inspection data. With its universal translation capabilities, unlimited flexibility in reporting and fast and easy report generation, ATS CM4D is the premier product of its kind available.
Today, OEMs across all industries are implementing new standards for the handling of dimensional inspection data, and graphical reporting requirements are becoming common to new product specifications. Implementing ATS CM4D now will allow your manufacturing operations to remain ahead of the curve in quality data management, and unlock all the potential value of your data across your entire enterprise.