ATS Bus - Enabling Location Awareness Services for Advanced Manufacturing
ATS Bus, a manufacturing service bus, is the glue in this advanced electronics manufacturing project. ATS acted as the system integrator working closely with partners at the MTC (Manufacturing Technology Centre) to deliver a new solution for electronics manufacturers.
In this project, three location awareness demonstrators were implemented and integrated:
MES, SCADA, machine connectivity and RFID integration for electronics
Smart wireless tools, Ultra-Wide Band (UWB), and RFID enabled track and trace system
Augmented reality technology for PCB rework and manual assembly operations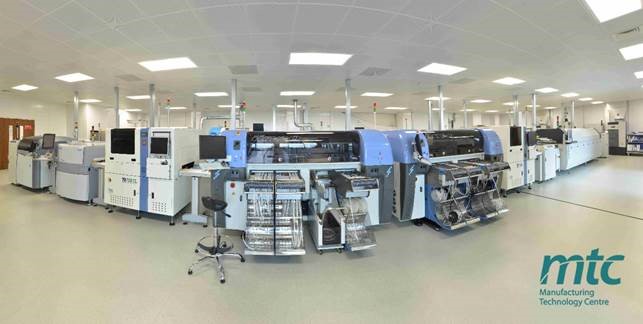 The components being manufactured, in this case printed circuit boards (PCBs), are tracked down the production line as well as off line. RFID tags attached to each PCB are written to via the RFID system so that at each process the component knows what processes it has completed and if it has passed or failed any inspection processes. If a PCB is removed from the line it can also be checked via a portable RFID gun to find this information.
The processes are monitored by ATS CM4D to ensure that if, for example, the component placement accuracy starts to drift then alerts can be raised and action taken before out of tolerance PCBs are produced.
By collecting data from the processes and consumables, such as time, temperature and moisture levels, the line supervisor can be alerted (remotely if necessary) to critical issues such as maintenance requirements or sensitive components reaching their exposure limits. Alerts can also be sent when consumables are running low.
ATS Bus was used to integrate all the subsystems including:
MES – iBaseT Solumina
SCADA – Siemens WinCC for both fixed clients and portable clients (phone and tablet) via WebNavigator and WebUX
SPC real time reporting – Analysis by ATS CM4D which sends results to WinCC SCADA via ATS Bus
RFID tracking – ImpinJ RFID visualised on WinCC via ATS Bus
Machine processes – Europlacer data capture via ATS Bus
Automated inspection results – AOI and SPI machines via ATS Bus